It is hard to believe that four years ago, I was in the hospital after having given birth to a teeny little baby girl named Molly. She was 4.5 pounds, much bigger than we expected her to be at 32 weeks, but still so tiny.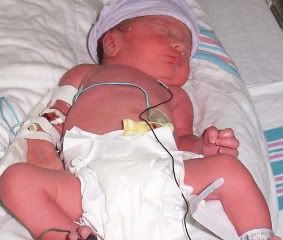 She spent two weeks in the hospital learning to eat and breathe; growing bigger; and generally learning to acclimate to world she was not supposed to be in yet. If I look closely at her heels, I can see the tiny scars from the daily glucose pricks in the NIMN.
We were blessed that her stay at the hospital was so short. Her first year was a bit rough with various illnesses as she built up her immune system. But today you'd never know she was a preemie. She's healthy, happy and full of life.
Happy Birthday Miss Moo. Mommy loves you!
P.S. This post is two days late but we were partying it up this weekend. ;)